Site Updates
02/20/03 Updated items Sold!
01/12/03 Updated Homestead page.
01/09/03 Added Farm Tools/Misc page.
01/05/03 Added photos of Farm Equipment
12/30/02 Created Family History, Contact Family, Farm Equipment, Vintage Equipment and updated Homestead page
12/29/02 Created homepage
Genealogy since Poland
Martin & Katarzyna Filz/Filzkowski purchased the property in 1883.

Felix & Mary(Bukowski) Filzkowski generation started in 1907.

Dominic B. & Florence C.(Kawleski) Felckowski generation started in 1909 with the marriage taking place in 1947.

Myron M. Felckowski, David D. Felckowski, Bill & Bernice B.(Felckowski) Jenkin and Bernie B. & Cheryl Felckowski generation holding the family reins in 2002-2003.

To Visitors of Site
Visitors are requested to fill out my Form E-mailer to ask questions about this site, the equipment, or other topics.
Contact Form
Getting Inspiration!
God saw you getting tired
When a cure was not to be
So He closed His arms around you
And whispered 'Come to Me'
You didn't deserve what you went through.
And so He gave you rest
God's garden must be beautiful
He only takes the best
And when I saw you sleeping
So peaceful and free of pain
I could not wish you back
To suffer that again.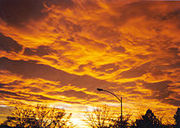 Sunrise Or Sunset?
Either is beautiful.
Send an email